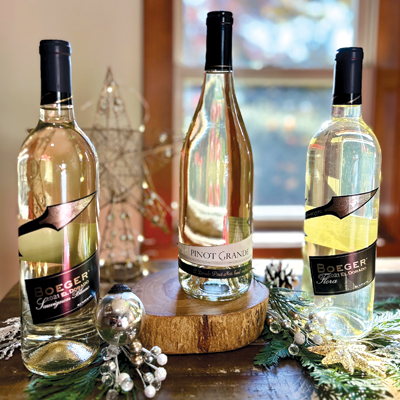 Winter Whites Gift Pack
Flora 2021
Flora is a California hybrid of Sémillon and Gewürtztraminer, developed by Professor Harold Olmo of UC Davis. Historically, we have always blended the Flora into our Sauvignon Blanc to create a rounder Sauvignon Blanc. This vintage, we decided to try this variety on its own. An austere and light-bodied wine, it is best served very well-chilled and pairs well with delicate cheeses. Muscat Canelli was blended in to create a fuller body and increase the aromatic complexity. Drink through 2023.


Sauvignon Blanc 2021
For the first time in our history, we have produced a 100% varietal Sauvignon Blanc and customers love it! In prior years, up to 8% each of Sèmillon and Flora were added to round out the naturally structured character of Sauvignon Blanc. This is an excellent example of how the varietal expresses our unique terroir. Drink through 2023.


White Pinot Noir 2020
Made in the "Blanc de Noirs" style, this allows a white wine to be made from a red grape. Picked early to keep a lively acidity, entire clusters are loaded directly into the press and very gently pressed to avoid any color pickup from the skins. A small percentage is aged on the lees in barrels to increase the body and mouthfeel, in order to counterbalance the natural acidity, allowing for a full, complete finish on the wine. Drink through 2023.

*Gift packs picked up in the tasting room will come in a 3 bottle carrier decorated with festive ribbons. Shipped orders are packed in our standard shipping box and each bottle is wrapped in black and/or gold tissue paper. All orders include a Boeger holiday card with your custom gift message.