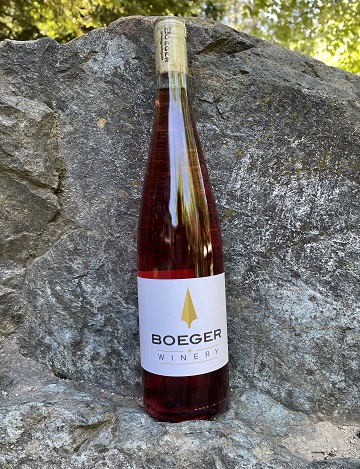 Primitivo Rose 2021
The grapes for this rosé are picked early in the season, before sugar levels become too high. Once harvested, the clusters are destemmed, and crushed. The must is pumped into the press where the juice and skins soak together for approximately 8 hours before being gently pressed off to carefully control the overall color extraction. Fermentation and aging in stainless steel helps protect the Primitivo aromatics, while the minimal phenolics extracted during pressing round out the palate.
These grapes are sourced from our "Magua" vineyard. In our early years, when the field workers actually bunked on the property, they referred to the pond on the property as "Mucho Agua." When our winemaker, Justin Boeger, was growing up, his cousin told him fairytales about a mythical monster that lived in the pond, which he called the "Magua Monster." It took several years for us to figure out the name was a contraction of "Mucho" and "Agua." Once we did, the name stuck, and the vineyard has henceforth been named after the monster that lives there.
*Please excuse our temporary label.
Wine Profile
| | |
| --- | --- |
| Vintage | 2021 |
| Wine Style | Rosé Wine |
| Varietal | Primitivo |
| Appellation | El Dorado |
| Ageability | Drink young and fresh |
| Alcohol % | 12.7 |
| Size | 750 ml |